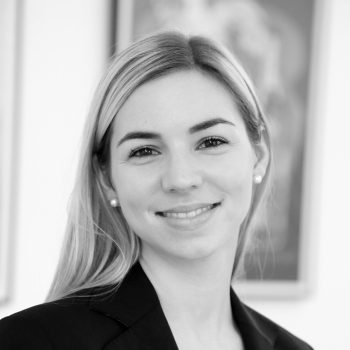 Aline Mugard
Attorney at Law
Partner
Aline Mugard graduated with a Master's degree in judicial careers from the University Paris 1 – Panthéon Sorbonne and a Master's degree in Intellectual Property Law from the University Paris 2 – Panthéon Assas. She has been admitted to the Paris Bar in 2011.

Before taking the oath, Aline began her career as IP legal counsel in two trademark and industrial design law firms and legal department of international companies.

As an Attorney she joined law firms dedicated to Intellectual Property and Media law, before joining Promark in August 2015 as an associate and then as a partner in 2019.

Aline has extensive experience in intellectual property law, media law and economic law litigation and consultancy. She is used to intervene before commercial and civil courts and trademark offices.
Areas of expertise
Litigation related to intellectual property law (seizures, counterfeiting actions, oppositions, etc.), unfair practices and parasitic competition, business law, customer law
Advice on trademark law, copyright, designs, domain names, unfair competition and free riding
Defense and management of IP rights (availability searches, defense and protection, etc.)
Contracts (assignments, negotiations, licenses, audiovisual production, publishing, services, etc.)
Contact
Publications
« Conséquences du Brexit sur les droits de propriété intellectuelle" (Consequences of the Brexit on the Intellectual Property rights),

Village de la Justice, February 3, 2020.

"La réforme de la procedure d'opposition en droit des marques" (Reform of the French opposition procedure in trademark law)

co-written with Bénédicte Devevey, Village de la Justice, January 30, 2020.

"World Trademark Review Yearbook, 2020/2021: Global Guide for practitioners"

co-writing and annual updating of the chapter dedicated to trademark law and domain names in France, by Alain Berthet, Bénédicte Devevey, Aline Mugard, Yolande Himely.