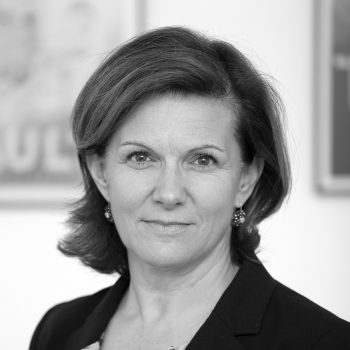 Bénédicte Devevey
Attorney at Law
Partner
Bénédicte Devevey holds a Master's degree in Judicial Careers Law and a post-graduate degree in Industrial Property Law (Paris II Panthéon). After many years in law firms specialized in Intellectual Property law, she joined Promark as a partner in 1996. Attorney at the Paris Bar, Bénédicte advises and supports companies, large groups, SMEs and start-ups, in the implementation, development and defense of intellectual property rights.

Her areas of expertise are trademark and design law, copyrights, domain names and unfair competition. She also supports her clients for brand audits, designs and domain names portfolios, litigation and handles negotiation of contracts relating to industrial property, in France and abroad.

Bénédicte provides legal training to her clients' teams, for legal departments and operational teams (marketing, international development or communication departments) as well as for advertising, design and communication agencies.
Areas of expertise
Advice and litigation related to:
Trademarks, designs and domain names law
Copyrights
Contracts
Unfair competition and parasitism
Associations
APRAM, ECTA, INTA
Contact
Publications
"World Trademark Review Yearbook, 2020/2021: Global Guide for practitioners"

co-writing and annual updating of the chapter dedicated to trademark law and domain names in France, by Alain Berthet, Bénédicte Devevey, Aline Mugard, Yolande Himely.

"La réforme de la procédure d'opposition en droit des marques" (Reform of the French opposition procedure in trademark law)

co-written with Aline Mugard, Village de la Justice, January 30, 2020.

"Une question de savoir-faire (Interview)" (A question of know how – Interview)

Made In France, April-June 2013 p.82.

"Un régime juridique pour les noms de domaine : des contours qui se précisent" (A legal regime for domain names: sharper contours)

Légipresse - November 2003 p.146.

"Dans l'anarchie du net, protégez vos marques! ou comment éviter de se faire poursuivre en justice parce que l'on a déposé son propre nom pour un site" (Protect your brands in the anarchy of the net! or how to avoid being sued because you have registered your own name for a site)

Paradoxe, June 2002.

"Prouver la paternité d'une idée neuve" (proving the authorship of a new idea)

Management - August 2000 p. 70.